Could going to the movies be an indicator to get your next eye exam?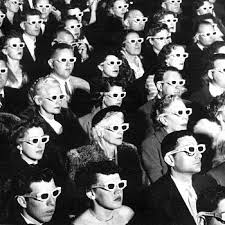 In today's world, 3D technology has become more popular and common in gaming systems, television, and especially movies. Most people are able to enjoy this thrilling experience through its realistic and close-up features. Nonetheless, there are some who find viewing 3D films gives them discomfort or makes them nauseated. According to the American Optometric Association (AOA), viewers who feel the 3 D's of 3D viewing (Dizziness, Discomfort, or lack of perceived Depth perception) should get a comprehensive eye exam by an optometrists.
Studies indicate that the problem may arise from eye conditions known as amblyopia (a difference in visual strength between the two eyes) or strabismus (the misalignment of the eyes). However, one of the biggest problems with 3D is the inability to accommodate. When we look at something close, our eyes have a "near reflex"—accommodation, convergence, and miosis (pupils get smaller). Convergence occurs when an object is pointed towards your nose. The muscles that control your eyeballs work in sync by rotating them inwards. You can try this by placing your finger 6 inches away from your friends face—you'll notice that your friend will now look cross-eyed. Accommodation occurs when you are focusing on near objects. These functions are all completely normal in the real world. In a 3D movie however, when we see objects coming towards us, we converge but don't accommodate—thus only two of the three "near reflexes" are working normally. This inability to perform all three "near reflexes" may cause eye discomfort or headaches.
If these problems continue to persist, one of the solutions may be to get your eyes checked by an eye doctor. Not only can a strabismus or the inability to accommodate  prevent you from watching 3D movies, it can also cause difficulties in other aspects of your life.
Blog contribution by Jeffrey Dang, Optometry Intern, College of Optometry ,Western University of Health Sciences
https://bendereye.com/wp-content/uploads/2014/04/3d1-e1398797624725.jpg
117
169
Dr Bender
https://bendereye.com/wp-content/uploads/2020/08/BenderEyeLogoStroke-300x86.png
Dr Bender
2014-04-28 13:11:05
2014-04-29 18:56:35
Could going to the movies be an indicator to get your next eye exam?